Custom Glass Shower Door Enclosures
Glass Company Near Me providers offer custom shower door enclosures. Are you a property manager looking for a replacement shower door on a budget or a home owner wanting to add an elegant frameless shower door enclosure. Here are some options you have. To get the best estimates over phone or email please have a picture of your shower opening and location so the Shower Door Companies can help you design a layout that will fit your project goals and budget guidelines.
Frameless Shower Door Installation Near Me
Frameless shower doors can give a nice modern look to any master bathroom. The right glass company can help you create a shower enclosure to fit any opening. Using quality products and great craftsmanship they will deliver you a top of the line your shower or bath enclosure. Whether you need a single glass wall partition or a semi frameless design they can help.
If you are thinking more of going with a Framed Shower unit then they can help you with that also. Doing a little research on your end and having some ideas will speed up the process and make your job easier. Having these little details will help the Shower Door Provider give great tips and advice to fill in the details that you may be missing.
Shower Door Repair Near Me Trusted Pros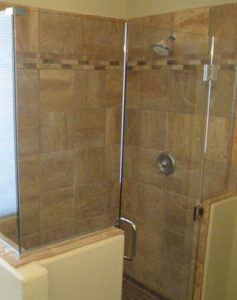 Framed Shower Door Replacement Enclosures
There are many options when it comes to framed doors. When using a framed unit the function and stability of the enclosure will last for a long time without losing any quality. They are versatile and made to fit all different types of openings. Do you need swing doors? Fixed glass panels? Bypassing sliding shower doors?
Framed shower door units are can be incorporated into any design and angles.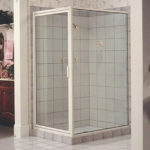 Frameless Shower Doors and Bath Panels
How to get a Quote for Frameless Shower Doors
Getting a quote on frameless shower doors? There are a few things you should think about before you call a glass company to get a quote on a frameless shower door.
What kind of shower door do you need? Hinge and Panel or Sliding/Bypass Style?
Hinge shower doors swing open. The other panels in the system will be a return or a side panel. These side panels can be fixed in channel for nice straight lines and easy to clean or with glass clamps which some people prefer. Here are some examples of frameless shower doors in channel and another with glass clamps.
Frameless Hinge Door and Panel in Channel.
Sliding and Bypass Frameless Shower Doors
Sliding shower doors can come in a few different setups. Framed shower doors aren't as common as before and many people prefer semi-frameless or barn door style frameless sliders. Here are some examples of popular models from C R Laurence one of the biggest shower door manufacturers in the nation.
Hardware Colors for Frameless Shower Doors